Our Annual Used Book Sale is approaching…   Now begins our active AAUW Book Sale time of year!  The Book Sale has been a part of our community for many years. In searching old Branch records, we think our first Book Sale was held in 1950 which would make this our 68th sale!
This is our only Branch fundraiser and a wonderful service project to our community.  We usually collect over $25,000 for our AAUW scholarships, our local libraries and our other supported charities.  Hopefully, we'll do it again this year. 100% of the money raised after expenses (which are not much) go to our charity donations.  It is a terrific way to recycle used books and to foster camaraderie of fellow members and meet other book enthusiasts!
Key 2019 Book Sale Dates
(Please note these dates on your Personal Calendars!!!)
Donations
July 15 – July 25
9:00 – 2:00

Monday – Thursday

Bernardsville Middle School (BMS)

141 Seney Drive Bernardsville 07924

Loading Dock 
Sorting 
July 15 – July 18
8:30 – 3:30

Monday – Thursday

Bernardsville Middle School
Bring lunch
July 22 – July 25
8:30 – 3:30 

Monday – Thursday

Bernardsville Middle School
Bring lunch
July 29 – July 31     
8:30 – 3:00 

Monday-Wednesday

Bernardsville Middle School
Bring lunch
Setup
| | | | |
| --- | --- | --- | --- |
| July 15 | 9:00 – 3:00 | BMS | Tables & Sign Setup |
| | | | |
Sale
August 1
12:00 – 8:00
BMS
Book Sale (Prices + 25% premium in the Main Room)
August 2
12:00 – 8:00
BMS
Book Sale – regular prices
August 3
9:00 – 3:00

3:00

3:00 – 6:00

BMS
Sale – Half Price all day

Charity pickup starts

Clean Up (We can use lots of help with this)

August 3

5:30 – 8:30

Robin Marion's

Pot Luck Picnic for: Book Sale Volunteers

209 Madisonville Road, Basking Ridge 07920
The Book Sale is again at the Bernardsville Middle School on Seney Drive, Bernardsville.  Book Sale dates are Thursday, August 1 through Saturday, August 3.  Book sorting begins at the school 8:30 AM, Monday, July 15 and runs through 3:00 PM, Wednesday, July 31.  Set-up is July 15, the first day of sorting. Except for several early book donations, all book donations and sorting will be done at BMS.
Book donations will be accepted at the Bernardsville Middle School loading dock from Monday, July 15 through Thursday, July 25. We are starting a week earlier which provides 3 weeks of sorting time. Potential donors should be encouraged to drop off book donations during this period. We do not accept the following donations:  reference sets, encyclopedias, textbooks,magazines, records, VHS or cassette tapes.  Electronic media must be either DVD or CD only.
Book prices will remain the same as last year. Books, both hardback and paperback, in the main room will be sold at $1.00 (except the smaller children's books will be sold at 50 cents).  On the first day, Thursday, August 1, there will be a 25% premium on books in the main room.  Rare and choice books in the separate room managed by Beryl Hunter are priced individually and are not subject to the first day 25% premium.  There is no admission charge to attend our book sale.  However, admission numbers will be passed out starting at 9:00 to determine entry order for the long line that always forms on the morning of the first day of the sale.  Jack Smythe will be handling this for us again this year.  
It is our hope that every member of our Branch will participate in our Book Sale in some way.  We sent out reminder post cards to all members and past community adult and student volunteers in June.  Post these on your refrigerators or family bulletin boards as a reminder of our summer dates and times! Then in early July, Kathryn Daut will be calling all members to sign up for shifts for our 3 day sale itself. When Kathryn calls, we hope you will have not made other plans for the days of August 1, 2 and 3. There is more than enough work for everyone.  We have a number of jobs that don't require physical effort (e.g., sitting at the entry and exit doors which can be somewhat boring but still is essential!)
Plans are well underway. Many of our usual book sale jobs are already filled with volunteers from our planning meetings held throughout the year. We still have empty volunteer slots.  Sorting our donated books is the KEY to making our Book Sale the big success that it is.  Our sorting effort transforms tables full of used books into an interesting book store experience.  If we received a donated book that someone particularly wants, it is highly likely they will be able to find it without too much searching.  
Call Teri Passarello (908-313-8421) or Bonnie Gould (908 647-2791) if you have questions or need more information as to what you might be able to do.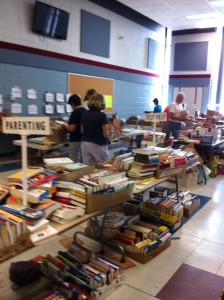 Tens of thousands of books all sorted by category.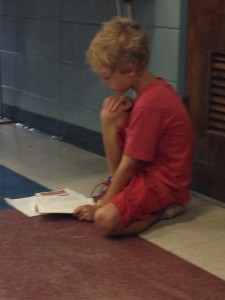 The love of reading…